We are a learning community, passionate about providing an International Education, which inspires and encourages learning and intercultural understanding.
We facilitate self-discovery and the development of unique interests, gifts and talents, whilst promoting service learning as a force for good in the world.
Dates for your diary
| | |
| --- | --- |
| 24th – 2nd of March | Half term – School closed |
| Tuesday 3rd | P3 Unit Based Trip |
| Saturday 7th – 11:00am – 1:00pm | Early Childhood And Primary Open Day |
Dear parents and guardians,
Today has been a 'classic' Sotogrande International School day, finishing off an incredibly busy and successful half term with several fun events.
Thank you to everyone who joined us to celebrate our Environmental Sustainability Awareness Day by 'travelling to school in a green way' this morning. As well as the environmental benefits, it created another excellent opportunity for our children and families to enjoy the mental, social and physical rewards of walking, talking and laughing together.
Today was also another popular and hugely successful Kindred Project initiative with students being given the opportunity to 'Send a Child to School' by wearing their own non-uniform clothes. Those who took part raised funds to make a real difference to students in our sister school in Uganda, who may not be as fortunate with the same opportunities for education as us.
Also today, SIS continued to enjoy the established tradition of celebrating Día de Andalucía. Our primary and secondary students particularly enjoyed their breakfast of churros and chocolate, whilst listening to classic Flamenco music. Many primary and secondary classes also linked their school work to Andalucía. Thanks go to our wonderful Spanish Language team and cantina staff for providing yet another fun, cultural and educational opportunity.
Last week's spectacular extravaganza of performing arts during Sotorox and Sotosmash exceeded all expectations! For the many members of our school community who were brave, kind or fortunate enough to perform or attend, thank you for creating something so sensational! For some students, hopefully, last week's incredible performances will provide the necessary motivation in future to learn to play an instrument, dance, sing, perform in front of an audience or even help with technical behind the scenes roles. Both of these events epitomised why SIS is such a unique school that has evolved into something quite magical. Thank you and congratulations to so many individuals and teams. For read more click here. 
This past month saw our D2 students experience their Diploma mock examinations. The week of formal exams proved to be an invaluable experience for all students, and it is hoped that they will benefit greatly from this opportunity, particularly in terms of time management and highlighting gaps in knowledge before the main exams begin in May. Meanwhile, our younger students have been preparing or completing major assignments with their P6 Exhibitions, M3 Community Projects and M5 Personal Projects.
Experiential learning highlights that you will be able to refer to in our various social media platforms or following newsletter sections, included hosting numerous students from along the coast for our STEM and Multimedia event, our primary football tournament, travelling to other schools to successfully compete at the regional cross country and basketball tournaments. Our M4's recently visited Hogar Betania, which proved to be an enlightening and positively emotional experience. Our EC1s, P3s and M3s also enjoyed curriculum-related trips to interesting local destinations.
Despite the recent spell of rain, work on our new secondary building continues to move forward at a good pace. The foundations will form the platform for our next extremely exciting chapter at SIS.
A reminder that following the feedback we received regarding last year's release of fees, we have worked with Inspired to finalise these sooner. As previously mentioned, to view the fees for the academic year 2020-2021, please click here.
 A further important reminder; we understand that living in an international community means families often come and go. I would like to ask that if you already know you will be leaving us at the end of this academic year that you notify us immediately using the below procedure. This is vitally important to us so we can plan the teaching provision and admissions for the next academic year. To formally notify the school of your intent to leave, please send a withdrawal letter to the admissions team; email address: admissions@sis.gl. The official deadline for informing us of your intention to leave is 31st March 2020 at 4 pm CET. Any notification after this date will result in the non-return of your deposit. 
I hope you enjoy reading the rest of our end of month newsletter and sharing in the successes and achievements of our school community.
Best Wishes,
Kevin Stone (on behalf of Mr Jak Kearney).
As we approach our half term break we would like to remind parents of the following.  Please do take some time to read it as there have been some updates. You will be aware that this is a constantly evolving situation and we will endeavour to keep you informed of the most up-to-date procedures and regulations.
While there is currently minimal risk from coronavirus to individuals in most countries except the regions affected, the safety and wellbeing of our students is paramount and we are ensuring the following:
We are continually monitoring any updates daily and will be sure to inform you of any changes.
All staff members have been briefed on the signs and symptoms of coronavirus.
We are encouraging regular and effective hand washing techniques.
We would like to remind all parents to remember the guidelines to maintain good hand, respiratory and personal hygiene and should avoid visiting animal and bird markets or people who are ill with respiratory symptoms.
Below are the WHO recommendations:
Clean hands with soap and water or alcohol based rub.
Cover nose and mouth when coughing and sneezing with a tissue or a flexed elbow. Ensure you dispose of tissues hygienically.
Avoid close contact with anyone with cold or flu-like symptoms.
Thoroughly cook meat and eggs.
Avoid unprotected contact with live or dead wild or farm animals.
Travel information update.
We request that parents at this time inform us if anyone in their household has returned from or travelled in the last two weeks, or intends to travel to any of the following areas: China, Thailand, Japan, Republic of Korea, Hong Kong, Taiwan, Singapore, Malaysia, Philippines or Macau. You will be asked to produce a medical certificate before being allowed back to school.health family
If someone in their household has travelled to and returned from any of these areas we would ask you to contact the School immediately. You will be asked not to attend school for two weeks from the date of return and will be asked to produce a medical certificate before being allowed back to school.
Thank you all in advance for your support and we wish you a lovely half term break.
In an effort to further enhance your cyber defences, we want to highlight a common cyber-attack that everyone should be aware of – phishing.
"Phishing" is the most common type of cyber-attack that affects users.
Phishing attacks can take many forms, but they all share a common goal – getting you to share sensitive information such as login credentials, credit card information, or bank account details.
We've outlined a few different types of phishing attacks to watch out for:
Phishing: In this type of attack, hackers impersonate a real company/person to obtain your login credentials. You may receive an e-mail asking you to verify your account details with a link that takes you to an imposter login screen that delivers your information directly to the attackers.
Spear Phishing: Spear phishing is a more sophisticated phishing attack that includes customized information that makes the attacker seem like a legitimate source. They may use your name and phone number and refer to Inspired Education or the school in the e-mail to trick you into thinking they have a connection to you, making you more likely to click a link or attachment that they provide.
Whaling: Whaling is a popular ploy aimed at getting you to transfer money or send sensitive information to an attacker via email by impersonating a real company executive or someone you know.
Using a fake domain, they look like normal emails from a high-level official of the company, typically the CEO or CFO, and ask you for sensitive information (including usernames and passwords).
Shared Document Phishing: You may receive an e-mail that appears to come from file-sharing sites like Dropbox or Google Drive alerting you that a document has been shared with you. The link provided in these e-mails will take you to a fake login page that mimics the real login page and will steal your account credentials.
What You Can Do
To avoid these phishing schemes, please observe the following email best practices:
Do not click on links or attachments from senders that you do not recognize. Be especially wary of .zip or other compressed or executable file types.
Do not provide sensitive personal information (like usernames and passwords) over email.
Watch for email senders that use suspicious or misleading domain names.
Inspect URLs carefully to make sure they're legitimate and not imposter sites.
Do not try to open any shared document that you're not expecting to receive.
If you can't tell if an email is legitimate or not, please delete it.
Be especially cautious when opening attachments or clicking links if you receive an email containing a warning banner indicating that it originated from a source you do not recognize
Here is the link for the anti-Spam Video
Dennis bid his farewell back in December and the ladies have taken over the asylum. We are in need of some more Dads – please come along and support poor, lonely Jurgen… We'd also really benefit from seeing a greater diversity of nationalities as part of the PTA and as volunteers for our fundraising events, so please, please get in touch: pta@sis.gl
Thank you to everyone who came along to the PTA open meetings, to understand and discuss what the PTA aims to do and to meet new / catch up with friends. A special thanks to those who hadn't been along before.
At this point in the year the PTA look at non-fundraising opportunities and how best to support the families as much as the students. Last year the Speaker Series was about Internet safety and we hope to build on this concept over the coming months. This term there will also be the opportunity to embrace the enormous amount of nationalities represented at SIS with a family day. More information to come but if you have any experience of such an event we'd love to hear from you: pta@sis.gl.
Happy half term!
La Reserva Padel Mixer
La Reserva are offering SIS parents an open invitation to use their padel courts with coaches available for free instruction followed by a coffee to replenish their energy. The invitation will be valid from the 9th to the 13th March (09:30am – 11:30am). Thereafter there will be a padel programme to sign up to for anyone interested as well as a special discount for mixings, running throughout the year. If you like padel and would like to explore the area, go check it out!
New times and activities in our extracurricular activities programme.
Sailing lessons.
Wednesday to Sunday From 10:00 am to 1:00 pm / 3:00 to 6:00 pm
Contact details: Real Club Náutico Sotogrande
Polo Valley lessons
Horse riding lessons and polo lessons for kids and adults.
Contact details:  www.polovalley.com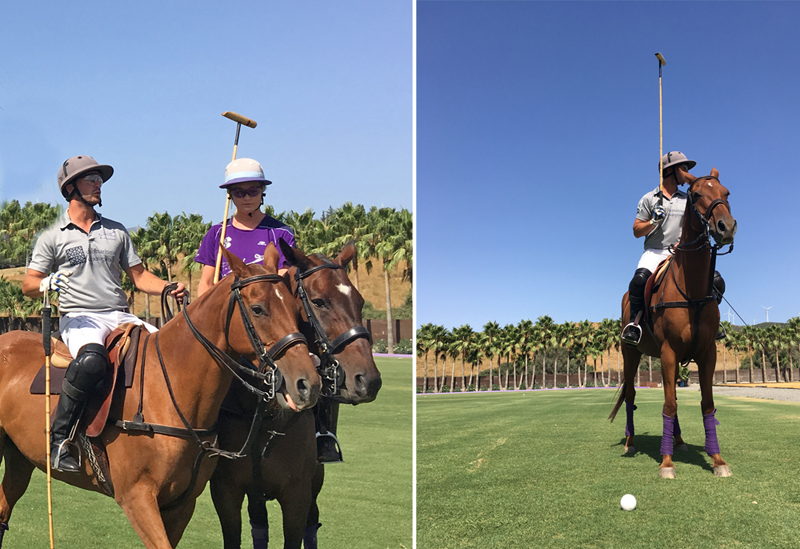 Sailing School Tohura
Practical sailing courses in Beneteau First 36.5.
Age M4 – D2 / Parents or Staff.
Sailing one weekly, 4 hours, alternate weekly, schedule 4:30 pm to 8:30 pm, during months of March, Abril, May and June.
Also offering private tuition for those who want to obtain the "PNB" "PER" qualifications for students over 16 years.
Show Jumping
Earlier this month Blanca V. (M4) competed in the show jumping competition Trofeo Infanta Elena in Madrid, where she and her pony Cupido came in first place. Blanca has high aspirations for this coming season and is showing a lot of commitment and dedication to achieve her goals. Keep up the great work, SIS are fully behind you and support you all the way!
Ruby B
I've been horse riding since I was 2 years old and have never thought of stopping. I've always had just one dream and that one dream is to become an olympic rider and ride for the British team. Last weekend i participated in the national horse competition where there were olympic riders competing and that was a great experience for me to watch. I had a couple of photos with olympians and it was amazing. I hope my dream will come true one day.
Congratulations to the following music students who recently received the results of the Rock School Exams they took in December. Particular recognition goes to Silvana A, who passed the highest grade possible (8) with Distinction, this will contribute hugely to her university applications.
Our thanks and appreciation go to our vocal coaches Miss Laura and Miss Anne-Marie for their guidance, support and care.
Silvana A, D2, Grade 8 – Distinction
Erica R, M3, Grade 4 – Distinction
Marta C, M2, Grade 3- Merit
Beatriz M, M2, Grade 3 – Distinction
Florence C, P6, Grade 2 – Merit
Message From Emma Butler, Head of Primary
February may be one of the shortest months of our school calendar but within Primary it has surely been a busy one! We have had two year groups go on unit based trips, our cross country and football teams competing in inter-school competitions, our Primary choir performing in the SotoRox music festival, the lunchtime gardening club starting and our school hosting a Tech and STEM (science, technology, engineering, math) day.
Also this month our Spanish team took part in a two day training programme on 'emotional intellegecnes' in Seville, Mr Cournane attended a CIS Child Protection Foundation workshop in the Hague and I had the opportunity to visit and lead an IB PYP workshop for a school in Istanbul.
It was an excellent way to finish this month and half term with our Primary School celebrating Dìa de Andalucìa. Throughout the day all students look part in Spanish cultural activities and it was lovely to see so many of our students coming to school in traditional spanish dress.
Early Childhood (EC1-P1)
Just last week EC1 enjoyed their first school trip of the year. The students had the opportunity to visit and experience a day at a real castle, dress up as their favourite characters from traditional stories and fairy tales. The day was truly magical and created memories that will last forever.
In the Unit of Inquiry "Why Earth?" EC2 had a great few weeks exploring The Solar System and why we live on Earth. They have been finding out how Earth is different from other planets and what it is that allows life to flourish on our wonderful planet. In different areas the children had the opportunity to investigate gravity, be scientists dissecting plants, and we even had live tadpoles in our classroom! The students showed great interest in this unit and together we found out that we need air, water, gravity and that most importantly we need the sun. Well done EC2.
Last week P1 celebrated their traditional multicultural fair. Over a dozen cultures were represented, and a variety of foods and other activities were sampled by an excited group of children carrying passports and a souvenir bag as they moved from one country to another. This is a fantastic opportunity for children to observe similarities and differences between cultures and to compare them to their own.
A huge thank you to all the parents involved in making this possible.
P6 Student Ambassadors, Isla C and Matty G, have been busy recording a radio advert for our Early Childhood Open Day taking place on Saturday 7th March. Thank you SpectrumFM Spain for a brilliant morning at your station!
P4 Unit on FORCES
Last week brought the start of the P4 unit on FORCES. Students brought in their own 'vehicles' to investigate different surfaces and ramps. They discovered for themselves how forces of friction and gravity affect the way wheels work.
Language
Congratulations to our Primary students who were awarded certificates in an international writing competition run by Pearson Global Schools.  We enjoyed reading your imaginative and original modern day fairy tales  based on ' My Twist on a Tale'.
Math
P5 have been exploring the metric system of measurement in maths and POI. Students were set problems where they had to select the correct mathematical equipment to measure to the desired level of accuracy. They were then challenged to use their knowledge of multiplying and dividing by 10, 100 and 100 to convert their measurements. Students have also been exploring the relationship between the capacity of water and its mass.
Values
P3 students are immersed in their unit of inquiry: Values. After several weeks of learning about consideration, being committed and principled people, we have visited the elderly residence of San Enrique de Guadiaro. We all had a very special, different and entertaining morning. We enjoyed coloring and drawing together, solving puzzles, doing some gardening activities and sharing stories. The students displayed open, respectful and generous attitudes towards the elders, who cared for the children exceptionally. An experience to remember and repeat!
P3-P6 Gardening club
This month has seen the start of our Primary P3-P6 gardening club. Last week they went to the garden centre in San Enrique to buy seedling vegetables for the raised beds in their wooded area, and herbs for The Kindred Project patio. The students thoroughly enjoyed selecting and planting their purchases which were funded by funds raised by the SIS student council.
Tech And STEM (science, technology, engineering, math) Day
On the 4th of February, P4-P6 students joined in with students from other international schools on the coast to take on some technology and engineering challenges. The children were coached by Mr. Sanchez, Ms. Joanna, and Ms. Romans. In different groups, the children tackled using computer assisted design to 3D print three dimensional shapes, using iMovie to create video special effects, and using simple materials to create a wind powered machine capable of lifting a given weight. A team of P6 students created a short video documentary of the day using their multimedia skills.  All the children really put thought and effort into the challenges, and they really enjoyed working in teams designed to foster social skills and create new friendships. A fantastic day for all!
Music
Well done to the Primary choir who last week had the amazing opportunity to perform twice in the SotoRox music festival. I am sure the students will never forget having the opportunity to perform on a professional stage, with a live band, music wall and light show. Music plays such an important part of our school and it was wonderful to see nearly seventy students up and performing so confidently and professionally.
Sporting Success
This month both our Primary cross country and football teams competed in the annual inter-school competitions. The cross country event was held in Marbella and a special well done goes to the following students who all did exceptionally well. First position for Julia P2, second position for Emma K P4 and third position for Connor P6. SIS hosted an excellent football event and I would like to thank the PE department and Primary Teachers who so brilliantly organised the day and helped prepare our students for the event.
This month I would also like to celebrate the success and congratulate several students in Primary. Esteban in P4, was placed second in the Andalusian Golf Federation Pequecircuito age group 9-10 year old.
Christopher and Charlie from P3 who were in the winning team of the Andalucían Rugby Championships for the sub 8 age category, in Jerez. I would also like to congratulate Finn H from P5 who won the under 10 tennis tournament at La Reserva last Sunday. Finally, on the slopes, congratulations to Kai from P5 who finished 2nd in his category in the first Copa de España ski championship and Carla from P4 who claimed 2nd place and fastest qualifying time in the Andalusian Championship of Boardercross (SBX)
I would like to welcome and introduce three student teachers who are joining us for the next 8-11weeks.
Wietse is a Dutch student-teacher who is currently enrolled in his last year of the ITEps course (International Teacher Education for primary schools). Wietse joined P2 and is excited to have started at Sotogrande International School.
Caroline is another student teacher from The Netherlands who will be doing her final teaching practice with P6 all while getting to know the whole SIS community.
Melina Knispel is a fourth year student in the ITEps course which will qualify her to be an international primary teacher. Studying in Germany Melina was able to explore her love for international education through diverse school exchanges. During her time at SIS, she will be joining the P3 team.
How can a forest in a jar represent the greenhouse effect on Earth? M1 students explored this question through experiential learning in I&S with Ms Szyperska by building their own terrarium with its own mini-climate. The closed jar traps the Sun's heat inside the jar and functions like a greenhouse. With the optimal level of moisture and sunshine, correct layers of gravel, activated charcoal and soil, the moisture-loving plants can survive in the closed jars for a very long time without watering. The photosynthesis and water cycle will keep the tiny forest alive.
Do you want to build your own forest in a jar? Check this website!
Yusef Nuinou y Alvaro Troncoso Riveira M2 have won the M2 Project Guide Touristique sur Paris. Students had to create their own itinerary using Google Earth, directions on the metro using the metro map and giving a full oral description of the monuments of their visit. Students used their IT skills as well as their research and French oral skills to make this project happen. Students also did Peer assessment using the MYP criteria to grade each other. Bravo à tous! Mrs Basagoiti and Mrs Bosson
Game design as a method of developing conceptual understanding
In Individuals and Societies M4 students have been investigating reasons for the expansion and decline of historical empires. They have also examined the processes and mechanisms that allowed these empires to function and expand. Students then took this knowledge based on real case studies to write their own generalisations, that held true for most or many of these case studies, for example:
     

Geographical location is key to allowing an empire to expand

    Technological innovations are the reasons why some empires grow in power and territory

     

Trade results in cultural diffusion within an empire

       

Empires use a range of strategies to communicate their power
 Finally students worked in small groups to design a game that would allow players an opportunity to develop an understanding of these generalisations. In order to do this the students applied a range of divergent thinking activities and principles from design thinking. They considered 4 key elements of game design: Mechanics, story, aesthetics and technology. Techniques and strategies were applied to help students develop their own creative ideas. Prototypes were built and tested before completion of the final game. Students from all 4 classes then mixed and played a range of these games with the aim of providing feedback to the group on how successful or not the game was in terms of developing conceptual understanding regarding the growth, functioning and decline of empires.
This unit has been an excellent example of how facts and knowledge from case study research can be used as a foundation to build conceptual understanding which can then be used to formulate theories and generalisations that can be applied and transferred to a range of situations and help make predictions.
U19 Basketball
On Tuesday 11th of February, our senior boys' and girls' squads played in the U19 Costa del Sol basketball tournament at Aloha College. The girls´ hard working ethos paid off and, after a great display of teamwork, they returned home with well-deserved gold medals around their necks having won the tournament. With a combination of offensive and defensive play, the girls were unstoppable in some seriously contested matches.
The boys had a very strong start, beating their counterparts with exquisite passing, jump shots and rebounds. Their determination to implement their game plan throughout the tournament led them all the way through to the finals where they were narrowly defeated by Aloha College, resulting in second place. With such young squads, it is obvious that these boys and girls have a bright future in the sport going forward. The school should feel very proud of each and every player!
Students & Staff Football League
Since the start of this month, Tuesday lunch times on the pitch are all about football with the SIS football league having kicked off. All participating teams are very excited to show off their skills, with many students itching to beat the teachers. If you have a spare few minutes during lunch time, we invite you to come watch a game and soak up the atmosphere, we promise you won't regret it!
Secondary Cross Country
After weeks of vigorous training, SIS took their running squad to the Cross Country Championships at St Anthony's on Wednesday 5th of February. All students displayed incredible courage, resilience and sportsmanship in what was a tough course. The squad preparation and participation was fantastic, with points from all SIS runners counting towards the final result. SIS came in an excellent third place, improving from last year's fifth place and the boys overall results meant they came in second place!
There were also some outstanding individual results from Sam B. (1st place) for M1, Joachim O. (2nd place) and James B. (3rd place) for M2-M3, Alejandro S. (4th place) for M4-M5 and Felipe P. (2nd place) for D1-D2. Well done everyone!!
M5 French tour around SIS: Notre lycée de SIS:
"Ninon Forcione, Gabriela Gastone Guilabert and Tara Stjepanovic have won the M5 Project Le lycée. Students had to create their own video with a full description of the school, answering 5 key points and interviewing students, teachers and other people working at SIS. Students used their IT skills as well as their research and French oral skills to make this project happen. Students also did Peer assessment using the MYP criteria to grade each other. Bravo à tous et aux gagnants! Mrs Bosson
The M3 students did excellent work in the community during this second service week. Once again they carried out a huge amount of activities that included: assemblies for Primary students and M2 students, a charity dinner in Trasmallo, stalls, visits to different NGO's and more. They also raised funds & raised awareness for Triple A , ADANA and animal collective dog shelters.
Furthermore, the students helped Danii's charity, the school in Nabugabu and Hurricane Dorian victims.
Highlight the volunteering work in Hogar Betania, Eco-club, permaculture club and Centro de ancianos Los Barrios. Our students also met with the Mayor in Algeciras to research ways of how to improve the public transport between Algeciras and Sotogrande, an amazing achievement! One of the most popular issues are the relation between food and climate change, personal diet as a way of caring for the environment and this year we have some very interesting proposals for instance, the creation of a book. Others focused on investigating Microplastics and sustainable surfing.
We are close to the end of the project and students are reflecting about all they have done during this long learning journey. We would like to congratulate them and say that we are proud of their actions!
Eco-friendly Personal Project M5 student: Gabriela Gastone Guilabert.
"I express my ideas and personalised aesthetic artistically developing a cohesive eco-friendly fashion collection, with the addition of a photographic step by step guide, showcasing the combined uses of my personal interests, art, fashion design and photography."
At Sotogrande International School's Boarding House, we focus on preparing our students for future challenges whilst encouraging them to enjoy and embrace every opportunity that is thrown their way.  Boarding truly is a wonderful opportunity to experience a unique and energising student-centered environment.
More information about our SIS boarding blog here
We are a learning community, passionate about providing an International Education, which inspires and encourages learning and intercultural understanding. We facilitate self-discovery and the development of unique interests, gifts and talents, whilst promoting service learning as a force for good in the world.